Unawatuna, Weligama and Mirissa lie close to each other along the stretch of Sri Lankan's Southern Coast, and it is an easy drive between the 3 beach towns. These beautiful towns offer a slice of beach paradise to world weary travellers, and are also an alternative for those tired of overcrowded beaches. These Sri Lankan treasures are still relatively pristine and unspoilt, and also generally quiet and peaceful.
A good selection of luxury villas are available for rent in these locations, to complete your experience in Sri Lankan's answer to paradise. Imagine whiling a few days away in the comfort of a private villa with easy access to the beautiful white sandy beach and crystal clear waters. After an exhilarating day out by the beach, come home to a delicious dinner served by your very own chef in the gorgeous ambience of a palatial villa. Truly a magical experience.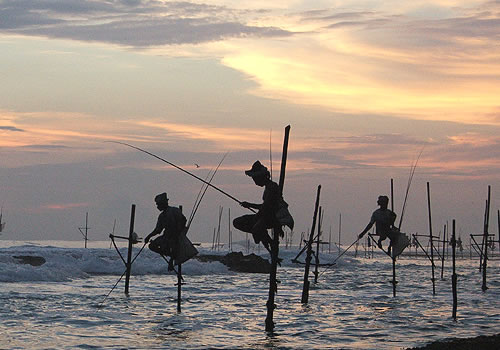 Unawatuna

Unawatuna is decidedly the most popular and developed stretch of beach amongst the 3, and has even begun to develop a bit of a reputation as a party town with throbbing nightlife. There's plenty to see and do, with a good range of restaurants, water sports facilities, diving and surfing schools, and even yoga and cookery classes on offer.
Weligama

Weligama is just 23km away from Unawatuna, and this charmingly sleepy little fishing village is named for the golden sand fringing the beach. It boasts an expansive and beautiful bay with rock outcrops and is the perfect location to sit around, enjoy the view of the sea, and simply chill out. A  peaceful village suitable for a quiet getaway.
Mirissa 
Mirissa is located 4km from Weligama and features a beautiful beachfront that transform tropical island dreams into reality. Whale watching is also popular here, and a whole range of species can be seen in season, including Blue whales, Sperm whales, Fin whales, as well as killer whales and many species of dolphins, turtles, flying fish and tuna as well! An amazing wildlife adventure.
Charming accommodations are aplenty in Weligama and Mirissa!